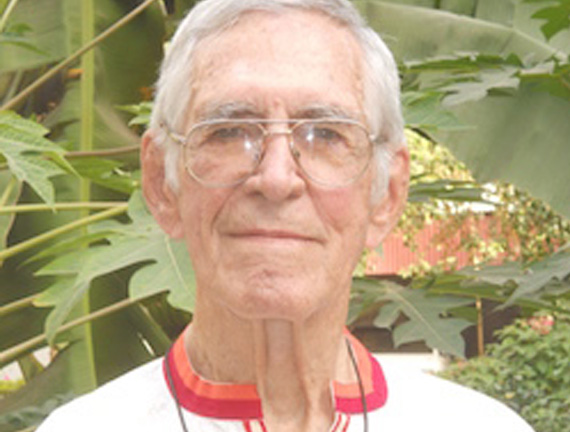 Rev. Fr. Richard William Timm, CSC, a renowned 'Servant Leader' of Bangladesh, the Father of NGOs died in South Bend, Indiana on Sept. 11, 2020. God blessed him with a long life. He died at the age of 97. He was born on March 2, 1923, in Indiana, USA. He spent nearly sixty-six years of service in Bangladesh both in academic field and in humanitarian services.
By his educational qualification and academic interest he was a scientist. In his early school years, he was inspired by Fr. William Robinson, a Holy Cross priest. Thus, in Sept. 1940 he entered Moreau to become a priest, a selfless missionary to the cause of humanity, both in the field of science and his commitment to the people who suffered various tragedies in life and the most marginalized.
A Devoted Holy Cross Missionary priest to serve the cause of Bangladesh
After his ordination in 1949, the congregation assigned him the responsibility of establishing a department of science at St. Gregory's, its newly opened college in Dhaka, founded in November 1949. He came to Bangladesh in 1952 as a science researcher. He took the responsibility of the Principal of Notre Dame College for the term 1970-71 and worked as the Director of Studies as well. Being its founder, he also served as a Professor of Biology, Principal and Head of Science Department, His contributions in the field of education is immense . He was the founder of the Science Departments in Notre Dame College and the pioneer for the club activities. He was also the founder of both Notre Dame Debating Club and Notre Dame Science Club, which are the first debating club and the first science club in Bangladesh.
Prophetic Mission
Being a scientist himself, he wanted to develop among the students a scientific mind. He had a vision for the emerging Bangladesh Church. Fr. Timm played a prophetic role in reconstructing Bangladesh with his vision and various socio-economic development programs. He had the scientific temper to help the country to shape its own future and to stand on its own feet. Caritas Bangladesh became a vehicle in this dream of Fr. Timm.
Fr. Timm, in Mid 50s visited the Chittagong hill tracts and wrote three scientific papers where he showed how the Tribals were deprived of their basic land rights, which was a violation of their rights as citizens of the country. He stood firm on the side of the poor and the most vulnerable of society. He stressed on the Rangamati Lake and he said, "Everyone who goes to see the beauty of Rangamati, should also see the tears of the hundreds of thousand tribals under the water." His book "Adivasis in Bangladesh" in 1991, was published by the Minority Rights group in London.
During the Liberation war in 1971, he became a new 'Avtaar' to free people and the country from the domination of Pakistan and their many atrocities leading to war in 1971. He began the Cyclone Rehabilitation Project. He was the Director on Monpura Island for six months and after the war, he was given the charge to become the Planning Officer of Caritas Bangladesh. Thereafter, he became the National Director of Caritas Bangladesh. He was the pioneer to begin Caritas International endeavors and established Caritas Bangladesh. Through his guidance, Bangladesh during the post war period achieved a lot to remove suffering and began some innovative programs for empowerment of the neglected, deprived and marginalized communities.
He was the champion of the deprived of human and social rights. It was such experiences in his life that moved him from pure academics to humanitarian services and for the greater good of human society. He felt the need to work to protect those in the country who could not stand up or speak for themselves. He became the voice of the voiceless. Keeping all the principles governing the conscience within the society, he moved forward boldly and with the charism of his own institute all his life as a valiant and frontier missionary.
Writings and Standard Text book in Biology
Fr. Timm wrote extensively about what he saw during the war period, mostly in the form of letters written to his acquaintances and to Congregation heads. He gave vivid descriptions of those crucial tragic events.
The Textbook of College Biology is a writing of Timm that served as a textbook for East Pakistani – Bangladeshi schools for many years. This text is actually an extension of a book by A. Bhuya of Dhaka Government College but not much of the original version was preserved in the extension. A Laboratory Manual for College Biology was a predecessor for the text.
Post War Period – Reconstructing the New Nation Bangladesh
Soon after the war, Fr. Timm participated and led various rehabilitation works, and he visited Bangladesh's remotest sites. "I have been to almost every location in Bangladesh and I am sure I have seen more of the country than most countrymen. I have seen Bangladesh's every nook and cranny. In doing so I have fallen in love with the country itself."
Fr. Timm actively took part in the newborn country's reconstruction work together with the UN, USAID, CORR (The Christian Organization for Relief and Rehabilitation, later Caritas) and CRS. T he rehabilitation effort was conducted among the homeless and those who have lost all in the war.
Besides his Caritas commitment, he had made significant contributions to Justice and Peace commission work. He did a survey on 1000 garment women workers in 51 export oriented garment factories, to see whether the women workers were getting their just rights and salary. With the help of Trade union, he negotiated with the management to see the working hours, their just wages, maternity leave and other such concerns of women.
On November 12, 1970, a great cyclone struck the coastal areas of East Pakistan and killed at least 50,000 people. Timm, assisted by the students of Notre Dame College, CORR (The Christian Organization for Relief and Rehabilitation, later Caritas) and HELP (Heartland Emergency Life-Saving Project), conducted several relief expeditions in the affected areas. The response was among the biggest of those taken by Non-government people.
On other disasters, including the great flood of 1998, Notre Dame College and Caritas both participated in the relief effort both in and out of Dhaka City under the participation and influence of Timm.
He said once, "Because of the people of Bangladesh, I have visited many places and had the privilege of working with people of diverse origins and backgrounds, but none of them could take as big a place in my heart as Bangladeshi people did. I really love them. They are precious. I have never found a society of people who are more loving, tolerant and caring of one another, who are simple and friendly."
Father of NGOs
Fr. Timm could be considered the Father of NGO (Non government organizations. mainly for development) in Bangladesh. His activities served as the initiating force for the Association of Development Agencies in Bangladesh (ADAB), the Coordinator Council for Human Rights in Bangladesh (CCHRB) and South Asia Forum for Human Rights (SAFHR). He was a consultant for Caritas Bangladesh and a board member of several Caritas projects as well as the projects of other NGOs.
Numerous Awards
Father Timm was given a medal and Parchment to Father at the Vatican Embassy in Dhaka on September 29, 2009, in recognition of his contribution to Education, Charity, Justice, and Peace in Bangladesh.
He was awarded the Ramon Magsaysay Award in 1987 for International Understanding. In 1963, Timm was given a Southeast Asia Treaty Organization Postdoctoral Research Fellowship for extensive study in Thailand and the Philippines on parasitic nematodes affecting commercial plants.
After long years of his selfless service to educational and humanitarian causes, he took his retirement and lived rest of his life in Indiana, U. S. the home of the Holy Cross Congregation missionaries who served various missions in different continents and countries.
Not only his congregation, but also the entire Bangladesh is indebted to his services to rebuild the broken Bangladesh for nearly seven decades he served this country. He made Bangladesh his second home.
(Published on 21
st
September 2020, Volume XXXII, Issue 39)