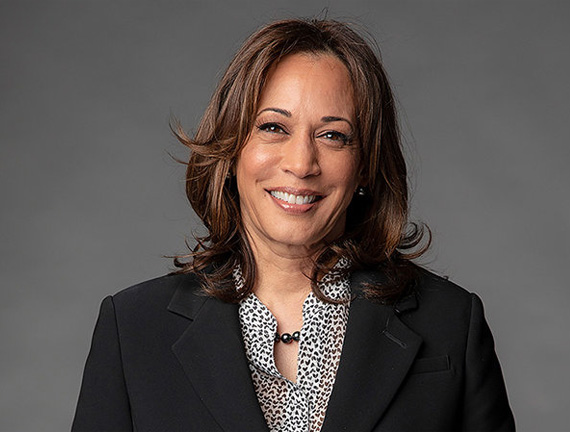 'Kamala Aunty. One of us.' This is how a newspaper in the United States referred to Kamala Harris after she was made the Democrats' Vice-Presidential candidate. Her selection as the running mate of Presidential candidate Joe Biden is nothing less than an acknowledgement that Kamala, with her Jamaican and Indian origin, is no less an American than any White American. This robust message has been sent out at a time when the American society is riddled with racial conflict after the murder of George Floyd. It unambiguously tells that America is home to the White, the Black, the Asian and everyone. It is equally a defining moment for the Black Americans who have been pushed to the wall after incidents of attack on their community members. As the first woman of colour to be nominated by a major political party as a candidate to enter White House, it is the beginning of a new chapter in American history.
Harris's selection is a rebuff to Donald Trump's aversion to immigrants and his strident actions to create hurdles to immigrants to the country. Her somewhat unexpected selection seems to be a jolt to the Trump camp which is at the receiving end for failures on many counts. This fear and trepidation were evident in Trump calling Harris 'a nasty', 'phony' and 'mad' women. But the American society seems to have rejected such uncalled-for epithets coming from the head of the State. Newspapers across the spectrum have run editorials and opinion pieces hailing Harris, with a hyphenated identity, as a bold woman whose credentials will stand her in good stead to win the election. People see her as a first-generation daughter of immigrants who is following an American dream just like any other American whose forefathers belong to the same land.
In her selection as a candidate running to enter White House, there is a lesson for Indians who clamour that only those who are born in India to Indian parents alone can hold constitutional posts in the country. Proponents of Hindutva ideology are at the forefront of this 'unconstitutional' argument targeting mainly Congress leaders like Sonia Gandhi and Rahul Gandhi. Though there is no constitutional ban on Indians whose parent/s were of non-Indian origin to contest for top Constitutional posts, the adherents to Manusmriti cannot digest such a proposition. Trump too seems to have taken a leaf from the arguments of Hindutva ideologists when he said that "he had heard rumours that Harris, the black California-born daughter of immigrants, does not qualify to serve as Vice-President of the United States." It seems the US President, fearing defeat, is making nonsensical claims and vicious insinuations.
In this context, what Harris said in her acceptance speech at the Democratic National Convention merits a close look: "We must elect a President who will bring something different, something better, and do the important work. A President who will bring all of us together – Black, White, Latino, Asian, Indigenous – to achieve the future we collectively want." Harris will hopefully be a strong link in achieving this motto of unity in diversity in the oldest democracy in the world.
(Published on 24th August 2020, Volume XXXII, Issue 35)