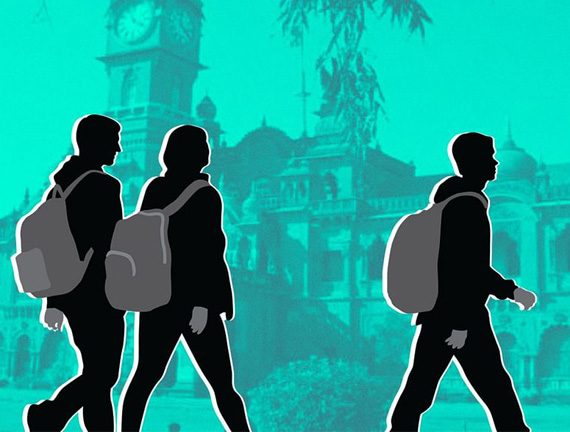 The COVID-19 global pandemic has seen several debates across the country. And its impact has been considerable on students.
Final exams in higher education are important. However with the sudden closing down of Universities and schools across the country since March 16 this year, after the Centre announced a nationwide classroom shutdown to contain the COVID-19 pandemic, the student community, especially many of those in the final year of college have been under enormous mental distress for a plethora of reasons.
India's higher education regulator, the University Grants Commission, issued guidelines for conducting online exams for final year students of bachelor's and master's courses on 29 April this year. Accordingly, the universities of Delhi and Panjab, among others, scheduled the exams.
But following opposition from both students and teachers against holding the exams amidst COVID-19, human resource development minister Ramesh Pokhriyal wanted UGC to revisit its guidelines. Initially the UGC cancelled the exams, but about a week later, UGC held that the exams must be compulsorily conducted by the end of September.
Next was the confusion that prevailed amongst University students.
One set of them sought for declaration of results of final year/terminal semester on the basis of past performance/internal assessment and to award mark sheets and degrees, without conducting final exams.
Another group however challenged the decision of the State Disaster Management Authority for not holding final term exams. Amidst the cross fire, a circular issued by the University Grants Commission (UGC) on 6 July 2020 rather compounded the situation.
The overarching body for all the universities - the UGC, had, on the basis of a Report prepared by a specially constituted Expert Committee, issued certain guidelines related to University exams.
Notably, the circular maintained that (i) Universities are required to complete the examinations by the end of September 2020 in offline (pen & paper)/online/blended (online + offline) mode following the prescribed protocols/guidelines related to COVID-19 pandemic.
The circular provided an opportunity for examination through special chance, which in simple terms sought to provide an opportunity through a special examination to a student of terminal semester/final year who was unable to appear in the exam conducted by the University for reasons whatsoever.
Universities were given the flexibility to conduct such special exam as and when feasible as a one-time measure for the current academic session 2019-20 so that the student was not put to any inconvenience/disadvantage.
The circular also specified that students of terminal semester/final year students having backlog should compulsorily be evaluated by conducting examinations in offline (pen & paper)/ online/blended (online + offline) mode as per feasibility and suitability.
In the meanwhile, no sooner than some State Governments announced cancellation of final-year examinations of state universities in view of COVID-19, on the grounds they went against the rules, misunderstanding reigned.
The UGC circular became a bone of contention as many raised their voice against what they called "thoughtless and hasty" decision of the UGC in the conduct of exams.
Others felt that the students had already been evaluated for five semesters and if the final semester was calculated on the basis of those, it wouldn't make much difference, etc.
Initially, it was challenged in Delhi High Court and later in the Supreme Court where over 30 University students across 13 States and one Union Territory sought for quashing the said circular.
An unrelenting UGC maintained that its decision was taken "after due deliberation by taking into account and balancing all relevant factors" and that its circular was issued to "protect the academic future of students", while keeping in mind their "health and safety". UGC reportedly argued that "not holding examinations will not be in students' interest as their degrees may not be recognised if the States would act unilaterally and cancel final-year examinations in violation of UGC norms". Further, as per UGC's statistics, out of 945 Universities in the country, data furnished by 755 Universities (120 Deemed Universities, 274 Private Universities, 40 Central Universities and 321 State Universities) had shown that out of 560 Universities, 194 had conducted the exams while 366 were planning for the same in online, offline or blended mode by September. In addition as 27 Private Universities were established during 2019-20, their first batch was yet to become eligible for final examination. It was also argued that many prestigious Institutes abroad, including the MIT, Cambridge and Oxford, have held the exams despite COVID-19.
Similarly, for instance, no sooner the National Testing Agency announced NEET and JEE exams 2020 in September, it evoked sharp response from several quarters. While some eagerly awaited for it there were others who knocked at the doors of the judiciary. However on 17 August a Division Bench of the Supreme Court ruled that there was absolutely no justification for postponement of the examination in question relating to NEET UG-2020 as well as JEE (Main)…though there is pandemic situation, but ultimately life has to go and the career of the students cannot be put on peril for long and full academic year cannot be wasted".
Now in the UGC matter, in its 160 page judgment delivered on 28 August 2020, a Division Bench of the Apex Court observed that the final year/terminal semesters examinations are important because the learning process is a dynamic interaction where the only way to figure out what students know is to seek evidence of their knowledge and to evaluate it. Performance in examination especially final year/terminal semester examination are reflection of competence of the students. Terminal semester/Final year examination also provides an opportunity to the students to improve upon their overall score/marks which are very crucial for academic excellence and opportunities of employment. Final year/terminal semester examination of under­ Graduate or postgraduate is an opportunity for student to show his optimum calibre which pave his future career both in academics and employment.
The essence of the direction is that students cannot be promoted without holding final-year examinations by September 30.
However, the Court maintained that if a State felt it could not conduct examinations by September 30, it had to approach the UGC for new dates to hold the examinations.
Although a State Disaster Management Authority can postpone final-year examinations under the National Disaster Management Act, the Court said that fresh dates for the exams had to be worked out in consultation with the UGC.
With the confusion cleared about University exams, there is an imperative need to ensure safety of students as well as examiners and support staff at exam centres by maintaining hygiene, ensuring social distancing as well as safe transportation facilities, among other precautions.
The task is onerous but unavoidable as it involves the future of tens of thousands of our children.
(Published on 31st August 2020, Volume XXXII, Issue 36)