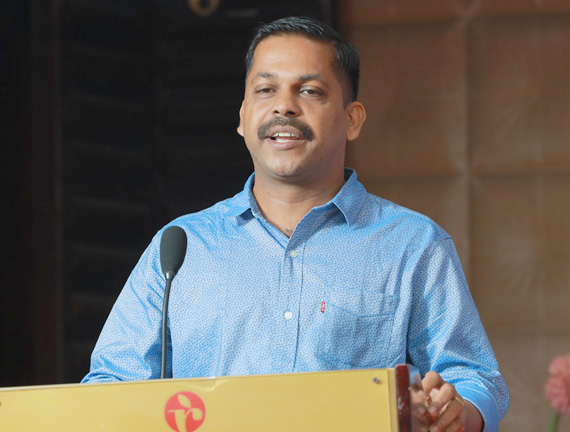 The clarion call for Aatma Nirbhara Bharat on 12th May 2020 amidst Covid 19 lock down while announcing Covid 19 economic package has raised eyebrows of many until it takes a U-turn with Youngistan's overwhelming response to Prime Minister Modi's Innovation Challenge. Raising a threat to China's web conferencing solutions in the world market, Vconsole, a new product developed by a young web research and development company Techgentsia Software Technologies Pvt Ltd from a small town of Kerala became the one-crore worth winner of the Innovation Challenge. While announcing the winner, on 20th August, Minister of Electronics, Communications and IT Ravi Shankar Prasad noted that it gives an indication of changing India where technological advancements can take place even in small towns. Thus, a locally made Vconsole becomes an Indian solution to web conferencing while pushing down the entry of Chinese-American App Zoom along with Google Meet and beating giants like HCL and Cisco gives hope and confidence on youngistan in the new world market in a post Covid world order.
The winner company will get a financial support of 10 lakh for next three years for operation and maintenance and will be the official web conferencing solution partner for Government of India during this period. When asked about the experiences of the company in the venture, its Co founder and CEO, 43-year old Joy Sebastian humbles down. "It's a team effort. The co-founder of the company Tony Thomas and CTO Ankur Deep Jaiswal have done a commendable job along with the entire team of 50 members to achieve this."
The Indian achievement comes in the eve of a survival challenge in the global pandemic condition that hit India's and China's billion club population putting them in social distancing and travel restrictions for months along with other nations. Thus, quantum leap innovations of these kind from remote India is an indication on her potential to become an active player in world software technology market. "India has been a country for downloads of apps for too long. It is time for India to become a country where apps are also uploaded... Since video conferencing was an important instrument, especially during this pandemic, we always discussed why not we have a 'made in India', video conferencing," says Ravi Shankar Prasad while declaring the winner. "The government is committed to develop India's software product and mobile app economy in a big way and efforts like this will take us a long way in that direction," the minister added.
Undoubtedly, the government gives high priority to the security aspects of its web conferencing solutions. Hence, preparations to develop Vconsole was not an easy task for Joy Sebastian. "Security aspects of the product is a great concern for us. Vconsole is the result of a 10-year long research of Techgentsia. While the government's task was to develop a web conferencing solution that can actively participate 25 people, we developed a solution to accommodate 100 active participants and another 300 spectators at the same time. It will work even at a low internet speed. It does not require different video streaming for each person that enriches the data quality and ensures less data usage compared to other solutions," he explains.
According to a PIB release, the Innovation Challenge was open for participation from industries, start-ups and individual experts. The competition was held in three stages- Concept, Prototype and Product Stage. Among 1983 companies selected for submitting the prototype only 12 companies shortlisted for the next stage and were given Rs 5 lakh to develop the prototype. In the third stage, five companies were selected and Rs 20 lakh each was given to three companies and Rs 15 lakh each for two companies to develop the final product in one month. Jury comprising eminent experts from industry, academia and government screened the finalists. The jury also selected three products namely Sarv Wave by Jaipur based Sarv Webs Pvt. Ltd., Insta VC by Hyderabad based PeopleLink Unified Communications Pvt Ltd and HydraMeet by Instrive Softlabs Pvt Ltd of Chennai.
India' Innovation Challenge has become a threat to Chinese app TikTok, which is already banned in India. The homegrown video app 'Chingari' is an answer to TikTok which won first prize in the 'Aatma Nirbhar Bharat App Innovation Challenge', in the social category and will receive Rs 20 lakh. The second and third winners are YourQuote, India's largest writing app and Koo news app winning Rs 15 lakh and 10 lakh respectively. The Jury identified 24 apps for prizes across all categories and another 20 apps for special mention. The App Innovation challenge sought entries for nine different categories such as Business, eLearning, Entertainment, Games, Health, News, Office and Work from Home, Others and Social. The App Challenge received 6,940 entries. As minister Ravi Shankar Prasad puts in, "we are committed to develop India's software product and mobile app economy in a big way and efforts like this will go a long way in that direction."
Call for India to boycott Chinese products in the wake of Galwan Valley skirmish on 15 June 2020 claiming lives of 40 Chinese soldiers and 20 Indian soldiers, created an anti China sentiments even at the local level. However, promoting desi solutions in short term are practically difficult due to India's high dependency on China for parts, hardware and many other items. India owns $75 billion worth imports from China every year. Hence, making India Aatma Nirbhar Bharat is an emotional goal which cannot be achieved without engaging youngistan in boosting small scale local production in all walks. However, as per Government of China's customs data Chinese exports to India had fallen by 25% in August this year as compared to that in August 2019, which could be a resultant of Covid impact.
A self-reliant India does not mean to cutting off from rest of the world. Many Startups and young IT companies have silently made entry in the global market. As Joy Sebastian puts in: "We have clients world wide. Europe based Easy Meeting, U.S based Kaipura Inc. Corp., Brand Commerce, Ireland based I-Connect are some of our clients. We give solutions to Mumbai based Global One, C-dac in Trivandrum and ITI Ltd. Indian Startups are getting a momentum in the global market."
Apparently, India has shifted her focus to many other fields to enhance self-reliance during the pandemic. The personal protective equipment (PPE) sector of India has grown from zero to 1,50,000 pieces a day in two months by the beginning of the month of May. It has a capacity to produce more than two lakh kits a day. The PPE industry in India is worth Rs 7,000 crore (US$980 million) and in two months it grew second only to China. In another venture, India re-purposed her various automobile sector industries to collaborate in ventilator-making. Announcement of a 'Made in India' 5G network by Reliance Jio using 100 percent homegrown technologies and solutions is another important shift. Many such announcements have come up in the Defence sector too by imposing an "import embargo on 101 items" over a period of five years.
Among many of such shifts in the recent past, the relevance of success of Techgentsia is to be analysed for its vision to bring in a revolutionary change in the space of formal IT education. As Joy Sebastian reveals, "My company gives importance only to talent pool than any reputation of an engineering institute. We are even not bothered to know whether the aspirant is an engineering graduate or not. Our team has employees who did not complete an engineering degree and some others have joined engineering college to get a degree after availing their expertise from Techgentsia." Adding more to its vision, he says, "Our company has a vision to rebuild the society around us. It is our social responsibility to engage in developing people around us to hi tech locals by providing human resource and IT solutions for better community life. We are still active with free online solutions during Covid pandemic. My preference is to give job to more people in my locality. When I was failed to clear interviews of world companies due to my local flavour, I have decided to bring the world into my locality."
Efforts of Techgentsia could be re-read in a post Covid world order as a company that makes a difference with its vision at par with the concept Atma Nirbhar Bharat. Its product, Vconsole, is the best example of 'local' becomes 'vocal.' In a country like ours where being elite means western educated and being local is inferior, a vernacular school trained village man from a coastal hamlet sets his goal in the world market, posing challenges to multi nationals, using local human resource in the IT sector and showing a way forward to tame the dragon.
(Published on 24th August 2020, Volume XXXII, Issue 35)